---
07
Wednesday 07th August 2013
This absolutely jokes guy known as a Pastafarian has recently made the news because of his 'religious headgear.' Lukas Novy who's clearly having some late 30's breakdown is a believer of the Church of the Flying Spaghetti Monster and claimes that his religion requires him to wear a sieve on his head and so has been granted permission to wear it in his official ID card. Like a bos.
The Czech Republic is the second country to accept a cooking utensil as official religious head gear. The other was a fellow European from Austria who won the right to wear a similar sieve on his head for his driving license. Well there you go. Apparently the initiation to join the religion is you have to cheese grater your dick.
Ha I made a joke.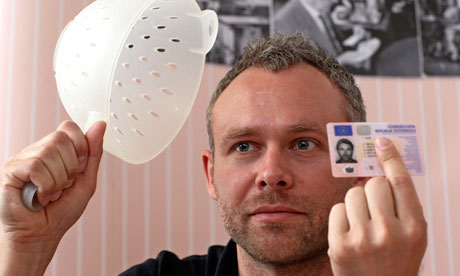 Don't Panic attempt to credit photographers and content owners wherever possible, however due to the sheer size and nature of the internet this is sometimes impractical or impossible. If you see any images on our site which you believe belong to yourself or another and we have incorrectly used it please let us know at panic@dontpaniconline.com and we will respond asap.
---
MORE FROM DON'T PANIC
---