---
13
Tuesday 13th November 2012
Sailor Jerry is hard. So hard that the Misfits, who have never previously let their music be used in an ad, agreed to license their song 'Where Eagles Dare' for this video.
From his childhood riding freight trains around the country Norman Collins had a taste for adventure and when he finally settled and set up his tattoo parlour in Honolulu, this taste for change and adventure didn't stand still. As a sailor moving through the China seas he studied tattooing techniques alongside Asian philosophy and stories. When war struck, Hawaii became a central point for naval and army officers. Norman sat at the centre of the red light district - his tattoo shop the first port of call in the middle of the madness.
One story runs that Tatts Thomas, a famous Chicago tattoo artist, took Collins down to a morgue telling him that all great men started out tattooing stiffs. Jerry took up his needles and started inking, until Tatts slapped him on the back and told him it was a joke. Learn from this: men can approach death without fear and tattoo it.
Norman 'Sailor Jerry' Collins ain't no goddam son of a bitch and neither are these guys:


Captain James Cook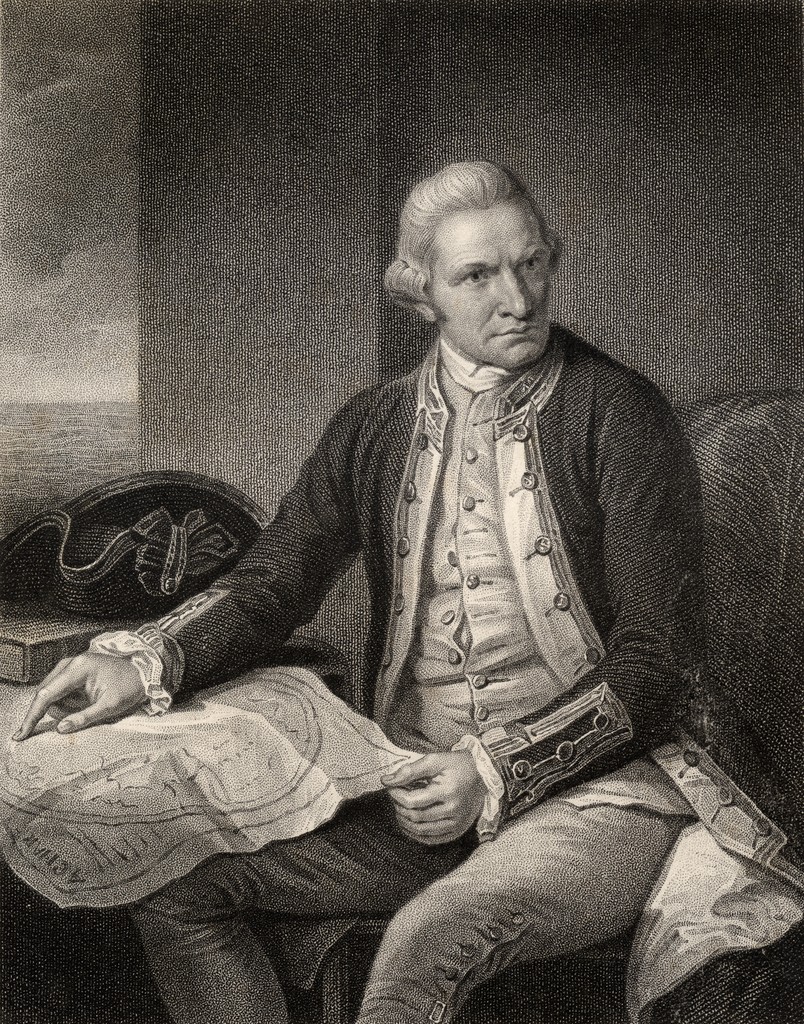 The first sailors getting tattoos came from Tahiti on explorations headed by Captain Cook. After one wild night of lining his stomach with whale blubber, he egged on friend and botanist Sir Joseph Banks to get some totally tribal ink like the native Tahitians. Banks ripped his shirt off, downed a dram of rum and took one for the team (this may or may not be historically accurate).

Cook recorded in his ship's log thus: "Tattow, as it is called in their Language... this is a painful operation, especially the Tattowing of their Buttocks, it is performed but once in their Lifetimes."

King Fred


King Frederik the Ninth of Denmark in Life Magazine 1951
King Frederik the Ninth of Denmark is the baddest monarch who ever lived and not some namby-pamby royal environmentalist watercolour painter (we're looking at you Prince Charles). In 1951, King Fred let Life magazine witness him getting tattooed. This man is a lesson in traditional masculinity: his puffed chest, eyebrows slightly frowning as he looks towards the middle distance, fists clenched ready for a fight and just the right amount of body hair.
Lady Viola and Miss Artoria The Tattooed Girl
These tough babes made the decision to get full body tattoos in order to join freak shows around America, see the world and earn money. They went through the seven weeks of intense tattooing to achieve the full effect and in a time when flashing a touch of ankle would get you branded a wanton hussy this was a brave move.
Lady Viola (above) lived with tattoo artist, Frank Graf, who completed her full body tattoos. His wife was an "Egyptian" dancer in a sideshow in Coney Island and Lady Viola joined them and others in side-shows until the1970s. Artoria (below) was tattooed by her husband Red Gibbons and with him entered her first sideshow in 1919, eventually travelling with Ringling Brothers and the Barnum & Bailey Circus she continued her trade for 50 years. True bad-asses.



Norman 'Sailor Jerry' Collins was an independent spirit who wasn't afraid to take risks and innovate, and you shouldn't be either.
Don't Panic attempt to credit photographers and content owners wherever possible, however due to the sheer size and nature of the internet this is sometimes impractical or impossible. If you see any images on our site which you believe belong to yourself or another and we have incorrectly used it please let us know at panic@dontpaniconline.com and we will respond asap.
---
MORE FROM DON'T PANIC
---