---
27
Monday 27th August 2012
'The Descent of Chris Tarrant into Hell' (above) depicts Tarrant being typically annoying, cocktail in hand as a dinosaur ravishes his wife, Ingrid. Whilst 'Parker-Bowles-Windsor's Birthday Treat' (below) shows not even the Royal family are safe as Camilla walks hand-in-hand with a jaunty Pom-Bear looking creature as the Queen and Prince Phillip avert their eyes.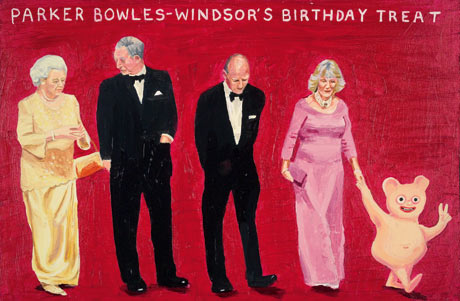 Hill's paintings might be bizarre but they are also pertinent, questioning how we interact with other slebs (usually B-list), our relationship with popular culture and what we can view as art. The exhibition was self-deprecatingly named My Hobby which shows acknowledgement on Hill's part that being a TV personality might not automatically enter him into the art world but his stylised technical ability will surely help.

Prince Charles
Harry Hill might have taken the royal family as his subjects of mockery but HRH Prince Charles has his own artistic aspirations to focus on. With pictures which wouldn't look out of place on Watercolour Challenge the Prince tackles scale and perspective with an unsurprising dullness. One wonders if ones Prince of Wales is being slightly humoured?




Syd Barrett
Syd Barrett is possibly the most secretive of all the celeb painters. Although sometimes he would photograph pieces as a momento, the majority were burned and destroyed before they could be seen in the flesh. Tortured artist doesn't even begin to cover it. Before joining Pink Floyd he attended Camberwell School of Fine Arts and Crafts and so when he left the band it seemed only natural to return to painting.
Recoiling from the effects of LSD Barrett became a recluse, staying in the confines of his Cambridge home. The style of Barrett's paintings reflect this lifestyle- not only drawing on an inner angst but also a childlike sensibility to create distinctive pieces. From the wild flurries of paint in his youth to the steady landscapes he produced later in life, Barrett's secret paintings remained that way until after his death.

Bob Dylan

Oh Bob, not only did your Christmas single scare the shit out of us but your painting is equally messy. This is an example of celebrity painting where the name bypasses the talent. A lack of perspective and a disregard for figurative drawing doesn't matter when you are The BD.


Far from his heyday of creating substantial songs which inspired a generation, when Dylan turned his hand to painting things got controversial for different reasons. Although his artistic ability improved for the recent Gagosian Gallery's exhibition The Asia Series the paintings were questioned on their subject's authenticity. These paintings were apparently inspired by Dylan's travels through China, Japan, Korea and Vietnam and the human connections made there. Yet the paintings bore strong resemblences to famous photographs. His people declined to comment.



Dylan's painting Opium bears more than passing resemblance to Léon Busy's photography


Leonard Nimoy


Nimoy is a God in some circles- and yes, those circles might dress in matching Star Trek onesies, talk in Klingon and know him better as Mr. Spock but Nimoy has so much more to offer. An author, poet and musician (his cover of Proud Mary is out of this world). His artistic turn towards photography has elicited the most interesting results. One project includes a series of photographs of plus size woman which ask pertinent and patronising questions such as "Who are these women? Why are they in these pictures? What are their lives about? How do they feel about themselves?"




Other works by Nimoy include a photographic essay about the feminine presence of God because, as well as being an international sci-fi star, Nimoy is also a 'gnostic mystic' and 'spiritual rebel'. Another focuses on eggs, because Nimoy likes eggs.

Robbie Williams


Finally, another celeb painter shocks us. He told us to shake our rude-boxes, he loved angels instead, is sometimes in Take That and now paints! 'Rock DJ' star Robbie Williams has a bold message to get across but it's one that pretty much did get across during the 1990s. '24 hr Party People' screams one canvas as on another the words 'ACID HOUSE' are luridly draped over dripped paint.


Says Robbie: "In our down time, which hasn't been much, I found I really like painting - of course I then had to turn my whole garage into [an] 'art club'". Possibly this gallery garage art should have always been kept a secret? Or maybe the world really does need to be reminded of that all important marketing mantra- 'Sex Sells'. Either way, you have to admire Robbie's spirit, you can't keep that lad down.



"I don't know if he plans to sell them, but I am sure they would fetch a good price." - A Friend
Don't Panic attempt to credit photographers and content owners wherever possible, however due to the sheer size and nature of the internet this is sometimes impractical or impossible. If you see any images on our site which you believe belong to yourself or another and we have incorrectly used it please let us know at panic@dontpaniconline.com and we will respond asap.
---
MORE FROM DON'T PANIC
---