---
24
Wednesday 24th October 2012
Swiss photographer Ueli Alder has attracted a lot of attention recently thanks to his striking composite 'photographs' of detonations and explosions. The images are meticulously and convincingly assembled, and pop with colour and kinetic force. Alder takes time off from a hectic schedule of shows back in Switzerland to talk about his enduring love affair with America, convincing a stripper to pack it in and return home, recreating a ghostly version of the Old West in the countryside of his childhood, and an eerie festival which takes place every New Year's Eve in his hometown.
'untitled 6' from Detonations
Firstly, could you tell us a bit about yourself?
I was born in the countryside of eastern Switzerland in 1979. I picked up a camera when I was 16, but only took it seriously when I was accepted at the Zurich University of the Arts in 2003. I graduated in 2008, and got a scholarship in 2010 that allowed me to study for a year at The Art Institute of Chicago.
How did you first get into photography?
I started making pencil drawings when I was about twelve years old, sketching portraits and landscapes. After a while, people from my tiny hometown wanted me to draw themselves or their family members. I never felt comfortable drawing a portrait in front of the subject, so I took black and white photographs of them to draw from later in private. In the end, I became more interested in the photographs themselves than the drawings.
Themes of American culture recur frequently in your photographs. How has America, and all its visual connotations, influenced you artistically?
America is the land of my childhood dreams and fantasies, and I reckon that's why I always return to it. One of the first series I shot, Chasing Amy, came together by accident. I had an American friend from my first stay in the States in 2002, who I later found out was working as a stripper. She ran away from her parents soon after I met her. When I discovered this, I wanted to find out more about her way of living and travelled to the United States for my second time. With a story to work with, shooting the series gave me my first insight into American subculture, and made me realise how hard it can be to earn a living in the 'Land of Opportunity'.
The photos in If you get far enough away, you will be on your way back home are really beautiful and haunting. What's the story behind them?
Western movies and my father, (who was a painter specialising in the peasant art of my region), were big influences on me. I tried to combine both for this series. I choose to undertake the project because I'd recently lost my parents: it was my way of dealing with this loss.
Talk us through the ideas behind your uncanny Schuppel series.
On New Year's Eve and January 13th, groups of six or seven men get together in my hometown, Appenzell, and dress up in leaves and brush-wood. They mask themselves and carry a giant bell, going from farm to farm performing a 'nature-yodel', which is a wordless form of yodelling. I'm not sure where it comes from, but it's an old tradition to cast out evil spirits. I wanted to document this very mystic rite I grew up with, and the guys involved participating in it. Every man creates his own mask, and you never really know who is behind these masks. In the end, the person behind it is not important, it's what he represents: that's what I tried to show.
Two photographs from Schuppel
How did Detonations come about?
Recently, I have been fascinated by how realistic war scenarios have grown in video games. I wanted to ask questions about how these images of war are breathtaking, and speculate as to just how breathtaking these images will have to become in the future in order for us to pay attention to them. My initial idea was to take pictures of real explosions, but that was too difficult. Instead, I decided to work without a camera at all, and all the 'photographs' are created out of found imagery on the internet. Some of them are composites of up to seven different images.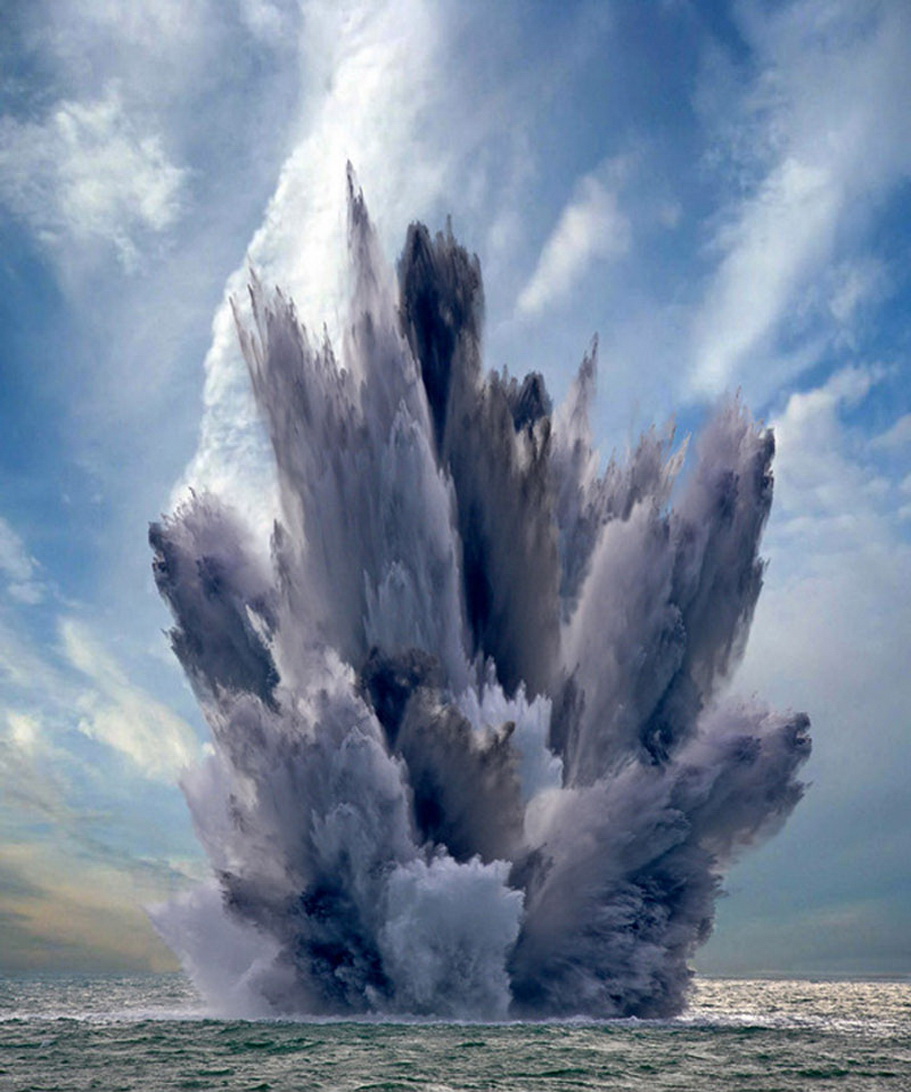 'untitled 3' from Detonations series
What's next for you?
I took around 6,000 negatives during a 15 month stay in the U.S. from 2010 till 2012, so I need to edit and filter those. I'm also working on a project for next year, which will see me travel through parts of Switzerland with an old, large, wooden format camera, taking portraits on vintage black and white film, or maybe using the wet-plate collodion process. We'll see!
Visit Ueli's website, AlderEgo, to see more of his work.
Don't Panic attempt to credit photographers and content owners wherever possible, however due to the sheer size and nature of the internet this is sometimes impractical or impossible. If you see any images on our site which you believe belong to yourself or another and we have incorrectly used it please let us know at panic@dontpaniconline.com and we will respond asap.
---
MORE FROM DON'T PANIC
---