---
11
Wednesday 11th February 2015
It continues Bristol's image as a healthier, greener city even in spite of a recent report showing Mcdonald's contributes £13 million to Bristol's economy every year. Bristol has had a history of the opposing of large multi-national chains coming to the city. It was only in 2011 when a 160 strong Police Squat squad were dispatched to deal with a riot in Stokes Croft, which left 8 officers injured, all because of the opening of a Tesco Express.
Bristol has been announced the European Green Capital for 2015, based on its commitment to creating a city with a higher quality life. It's not difficult to see why with many new initiatives continually pushing the eco-image.
One bizarre idea being the UK's first 'Poo-Bus'. The Bristol to Bath service is run on bio-fuel made of sewage and food waste. No suggestions needed for what number it should be. The Severn Project is an ambitious scheme providing urban farms to promote the growth of organic local produce for local businesses. They have a 2/3rds of an acre site near Temple Meads, which apparently had soil brought in by Avon and Somerset Police seized from cannabis plots growing around Bristol. A Green initiative in more ways than one. Back to Stokes Croft, 'Skipchen' hit the headlines late last year as a not-for-profit café whose changing menu is made up of donated or, mostly, food that has been found, likely as the name suggests, in a skip.
Bristol continues to stand out as one of the most unique cities in the UK and Europe. Its bohemian counter-culture roots allow for the drive of diverse businesses and initiatives. So we should herald the turning down of a new McDonalds, regardless of how much we wish Big Macs were more accessible.
---
Here are some of our favourite fast food alternatives in Bristol:
Bagel Boy
Just a few years old, the recent winner of the Bristol Good Food 2014 best takeaway award, Bagel Boy has quickly established itself as a Bristol institution. At home on St Nicholas' Street, the bustling city center, it is the place to go for delicious lunches and foolproof dinners. With locally sourced ingredients and store-cooked bagels, why not try out their signature salt-beef. If that doesn't take your fancy you can pick from the extensive menu or just create your own.
https://twitter.com/bagelboybristol
Grillstock
Born out of a self-declared 'love for American BBQ', 2010 saw the first Grillstock festival of meat and music in Bristol. The popularity lead to the opening of one their permanent Smokehouses in St. Nicks market, with another opened on the Triangle and a third in Bath. As the name suggests, Grillstock is about all things meat. Why not try their Grand Champion challenge, a feast of pulled pork, ribs, brisket and chicken, burnt ends, hot dog, BBQ beans, brisket chilli, mac 'n' cheese and cornbread, with the aim to finish in under an hour. Only one person holds the title.
For info on the festival - http://grillstock.co.uk/bristol-festival
Friska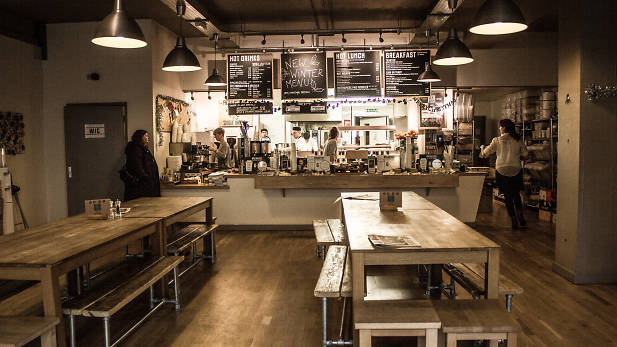 Quintessentially Bristolian, Friska's aim is simply to make you feel good, whether that's through the menu or their friendly ethos. A truly diverse menu with influences from across the globe. Started in 2009, Friska now has 4 'places', in their own words, not quite restaurants, not quite cafes. Why not try one of their Deki dishes, an initiative that helps fund an entrepreneur in the developing world.
For info on the Deki initiative - http://www.friskafood.com/deki
Atomic Burger
Forget a Big Mac, if you want a real burger then Atomic Burger is the place to go. With their Bristol outlet based on Gloucester Road, this really is an experience in itself. The comic book themed restaurant will end you right back to your childhood and that's before we've even got to the burgers. Take your pick between chicken, beef or veggie and then choose your extravagant theme. The toppings really have to be seen, to be believed. If you don't fancy a burger, why not try a hot dog, or even just try their Baconator Milkshake.
http://www.atomicburger.co.uk/
Tiffins
For something a little different, Tiffins has been serving up some of the best and most authentic Indian food in Bristol since 2003. With the mission plan to provide real Gujarati food, the relatively small menu offers up a variety of vegetarian dishes as well as chicken and lamb curries that change daily. Eat in or takeaway; why not try one of their vegetarian dishes for a genuine taste of India.
http://www.tiffins-bristol.com/
---
With all this great food on our doorstep we should continue to be proud to live in a city like Bristol that continues to drive local producers and businesses. We urge you to go and try out some of the places on our list and discover your own favourite local spots. Mcdonalds really is no competition at all.
Don't Panic attempt to credit photographers and content owners wherever possible, however due to the sheer size and nature of the internet this is sometimes impractical or impossible. If you see any images on our site which you believe belong to yourself or another and we have incorrectly used it please let us know at panic@dontpaniconline.com and we will respond asap.
---
MORE FROM DON'T PANIC
---