---
07
Sunday 07th October 2012

The My So-Called Life to Eyelash Fanatic Era



Angela Chase

Angela Chase became the moody teenage heroine for many young girls growing up in the 90s. That first episode where she dyed her hair red in her bathroom mirror and started hanging out with Rayanne was awesome. Then she started making out with Jordan Catalano/Jared Leto (before he became kind of strange) and things just kept getting better. It looked like it was onwards and upwards for Claire's career until MSCL was cancelled after only one season (boo!).


Latisse Eyelash lengthening commercial

'When your lashes grow, your lashes show'. Ah, what a change from the snappy and realistic teen dialogue of My So-Called Life. Danes trots about town whilst a voice over lists the many, many, many side-effects associated with Latisse. She bumps into a cute boy, sits with her "gal pals" for a spot of lunch and waves vaguely at a shop window as if to say "Now I have fuller, longer eyelashes I also have a fuller, longer life which I should fill with fake friends and window shopping!".




The real drama occurred when rumours started that Latisse had damaged Dane's eyes causing black and blue discolouring and blurred vision. One thing we learnt about Claire (or at least Claire's people) is that she can be counted on to be a fiery and heartfelt spokesperson. When confronted with these rumours her people exclaimed: "Your claims are entirely false! We will pursue legal action if you print anything to the contrary! This story should be killed!".
Ultimately, though, the teenage angst in me is screaming: ANGELA CHASE WOULD NEVER ADVERTISE EYELASH GROWING CREAM! NEVER EVER EVER! Just saying.

The Crying Years

Now, I don't know if anyone else has been subjected to watching Little Women every single Christmas but trust me, the all star cast can get a bit distracting. When Winona Ryder throws Claire Dane's manuscript in the fire, rather than feeling Beth's pain, you can't help thinking how great these sisters' genes must be.



Little Women - Claire as Beth, second from left
Susan Sarandon leaves the girls alone in the winter and Claire Danes contracts scarlet fever whilst in the background Kirsten Dunst and Christian Bale have a lingering relationship and Winona gets all jealous of her sisters. Claire Dane's scarlet fever leaves her in a deteriorating state for four years; whilst in this time the various misadventures of the four little women get steadily more tedious, until Claire dies. And it is quite sad, but only because she is the don of crying.





Ok, so this one might not be an official career move but boy, can that girl turn on the waterworks and at the very least shows us that Latisse doesn't completely seal up the tear ducts! Thankfully the The Claire Danes Cry Face Project has collated a gallery of tears. This was a lateral move for Danes from playing downcast Beth. It also begs the question: would we have even have her on our radar if she couldn't beat the classic Dawson Leary cry face? 'The Claire Danes Cry Face Project' would also be an excellent name for an experimental prog-rock band.

Indie Darling to Interior Decorator



In Igby Goes Down as Sookie Sapperstein

We now look at a very different career move as Claire makes a U-turn from crying and lengthening her lashes to cult, indie flick. With a script which attempted some Holden Caulfield sardonic eyebrow raising and wry social commentary and a soundtrack provided by Badly Drawn Boy and the Dandy Warhols (hey, it was 2003), Danes showed her un-commercial side.



As the face of Valspar Hi-Def Paint
'Hi, I'm Claire Danes and I like paint'. From un-commercial to infomercial, by 2010 we have to wonder at these career choices. Some say Danes needed cash, others, more generously, feel she must just really like the silky way Valspar slides onto her walls. I'm inclined to believe the latter - not even the best actress could fake that beaming smile, that glossy hair toss, that dedication to interior design.

From Romantic Roles to Hard-hitting Homeland



Romeo + Juliet

Okay, this final one might just be an excuse to find a picture of Leonardo and Claire and that infamous fish tank. However, her Juliet was steely and gutsy (if a little prone to naivety) and wore one of the best fancy dress costumes of all time. Here we see her development come full circle as the role of 14 year old ingénue is a far cry from the strong-willed and reckless CIA agent she plays in Homeland.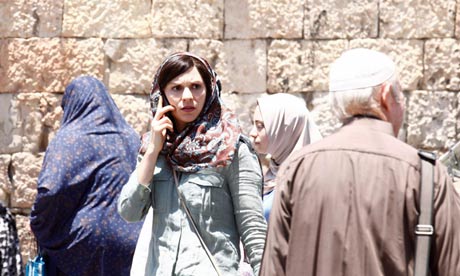 As Carrie Mathison in Homeland

Finally, 2012 hits and Claire Danes is back on the small screen. Far from Angela Chase, far from becoming a handy-woman painting walls for dolla she's now playing a CIA officer with bipolar who has an obsession with her suspect. With critical success and a baby on the way we can all breathe a sigh of relief that Claire's eyelashes are longer and her career is back on track. Homeland also gave us one of the best Claire Dane's Crying Faces of all time. Viva la Danes!
Don't Panic attempt to credit photographers and content owners wherever possible, however due to the sheer size and nature of the internet this is sometimes impractical or impossible. If you see any images on our site which you believe belong to yourself or another and we have incorrectly used it please let us know at panic@dontpaniconline.com and we will respond asap.
---
MORE FROM DON'T PANIC
---